Out and about this Easter? Check out our Top 10 Pubs to Visit This Easter to find one that's right for you.
The Globe is a beautiful 15th-century pub located in Alresford, just off the B3046. It has a garden and terrace overlooking Alresford Pond, home to some stunning swans, creating a truly romantic scenery. With its modern British menu, we are sure you'll find something for everyone to enjoy, whether it's a dinner for 2, or a meal with the family. They also sell our Hazy Hog cider!
The Binstead Inn is a traditional pub, situated 5 miles from Alton and Bordon, and 6 miles from Farnham. With its rural location, this pub is a fantastic cyclist hot spot, with bike racks available for when you want to stop by for a drink. The inn features a cosy bar, complete with a warm wood-burning stove to create a welcoming and relaxed environment, and a large south-facing terrace to enjoy a fantastic home-cooked meal. They also sell our fantastic Tongham TEA and Hog IPA.
 The Coach and Horses is a traditional village tavern, based in Rotherwick, Basingstoke. This countryside location provides a beautiful view of farmland from the garden, with regular customers such as walkers, cyclists and horse riders stopping by after their adventures. Their hearty and well-priced pub food helps make this tavern a great place for a bite to eat, and a drink of our Tongham TEA.
 The Thatched Cottage is a beautiful thatched pub, located in Farnborough, which provides an old, traditional style pub feel. They pride themselves in serving locally sourced food and drink in a family friendly setting, with warm fireplaces going to keep you cosy in the colder months. They love to welcome all well-behaved dogs and have a lovely garden for you to socialise with friends and family in, whilst you enjoy our Tongham TEA, Hogstar and Hazy Hog.
The Queens Stage is a new pub opening in the heart of Effingham Village, at the gateway to the Surrey Hills.  We are sure this inspiring and stylish pub will become a cyclist hotspot with the Surrey Hills nearby. The Queens Stage provides a whole new concept that you wouldn't expect to see anywhere else. They serve our two most popular beers on tap – Tongham TEA and Hogstar.
The Victoria is a lovely and welcoming pub situated in Woodham, near Woking and West Byfleet stations and easily accessible to the M25. Surrounded by attractions such as Brooklands Museum and Wisley Gardens, this pub is a sought-after place for a drink and a bite after a family day out. The staff are always friendly, and they sell our flagship beer – Tongham TEA.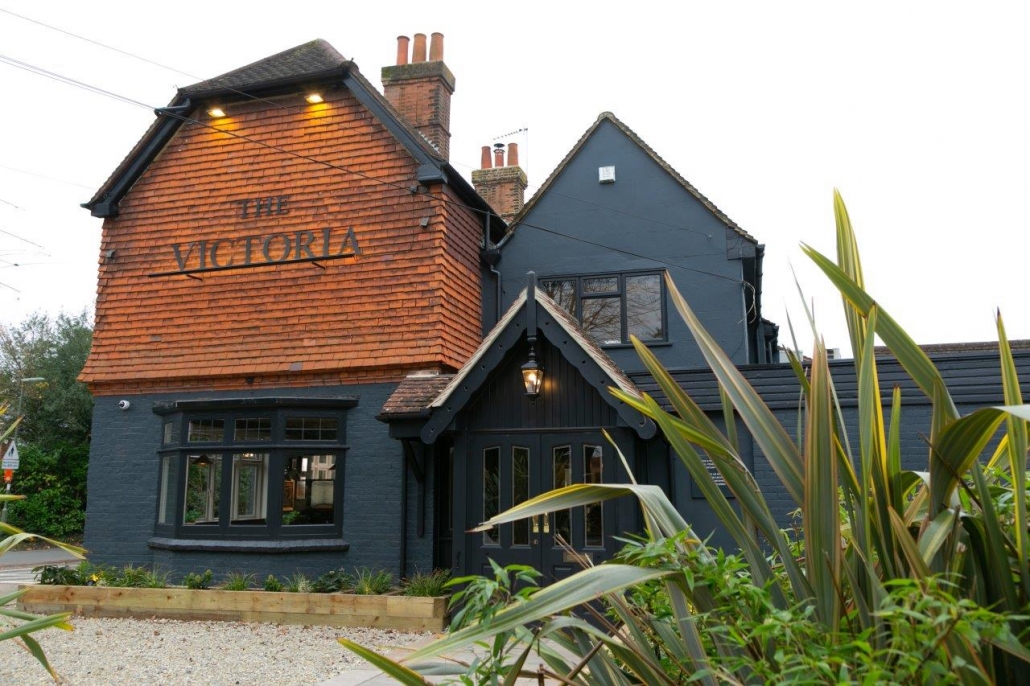 The Star is located in Malden Rushett, just 3 minutes from Junction 9 on the M25 and only 5 minutes away from Chessington World of Adventures. A great place to visit after a thrilling day of rollercoasters and rides with the kids, especially with their fantastic beer garden. The garden features many elements that will keep your kids entertained and occupied whilst you indulge in one of the many drinks that they provide, including our very own Tongham TEA and Hazy Hog Cider.
The Jovial Sailor is situated in the beautiful village of Ripley, just off the A3. They have a buzzing atmosphere inside, and three unique huts where you can dine in the garden named Wanda, Nemo, and Lola - quirky yet cosy. We are delighted that they are serving our Tongham TEA and Hazy Hog on tap!
The Refectory is situated just off the A3100, in Milford, and is an all-round delightful pub to visit. Based in an old cattle barn, it provides a unique and historical interior, and they cater well to both families and our four-legged friends! Their selection of beers on tap is fantastic, serving a wide variety including Tongham TEA and Hazy Hog.
And of course, there's our Hogs Back Tap… A wonderful bar and tap room, located here at the Hogs Back Brewery. We're in the village of Tongham, just off the A31, on Manor Farm, and there'll be a warm and welcoming atmosphere, with beers fresh from the cellar and a fantastic food menu. It's family friendly and welcomes all well-behaved dogs, a perfect pub to enjoy during the Easter holidays. Check out our Instagram @HogsBackTap to see more!
So, whether you're stopping for a pint during your Easter Sunday walk, or had an adventure-packed day with the kids and want a nice family meal, we are sure you'll find a pub that's perfect for you to visit this Easter!
For all the latest news and updates, sign up to our newsletter below and follow us @HogsBackBrewery on Twitter, Facebook and Instagram.